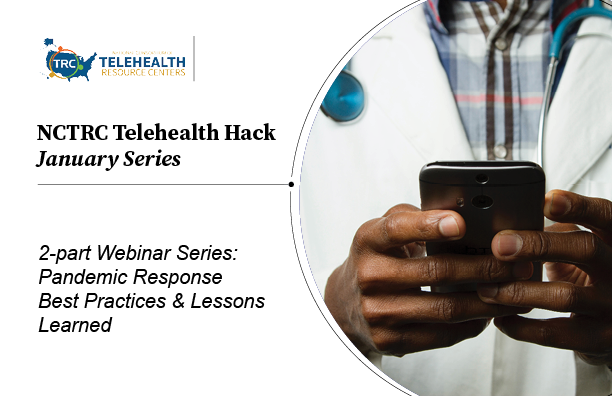 NCTRC Telehealth Hack- National Pandemic Response Best Practices and Lessons Learning
Jan 13 2021
2p EST
The NCTRC is now hosting the Telehealth Hack Webinar Series!
Presented by:
• Doris Barta, MHA, Director, National Technology Assessment Center (TTAC)
• Mark VanderWerf, Fellow of the American Telemedicine Association
• Carl W. Taylor, JD, Regional Vice President for Provider Engagement for Humana's South Florida Market

Description:
The National Telehealth Technology Assessment Center (TTAC) developed a Pandemic Response Project Team or "Think Tank" to create an Action Plan for a model to support rural communities in a return or continuation of COVID-19 – or a future pandemic – applying telemedicine capabilities and technologies. The "Think Tank'' was assembled with multiple representatives from epidemiology/infection control, hospital CEOs, nursing, public health, technology, regulatory and policy as well as representatives from TTAC. Our Telehealth HACK presentation will focus on:

•The Task Force and membership expertise
•Critical issues facing providers in the pandemic
•Define/describe issues and specific needs
•Document a plan (useful guide) to address issues immediately and in the future
•Identify examples of technology
•Create a Policy-Regulatory summary to inform and guide policy recommendations and change
*Please contact nctrc@cchpca.org to request Closed Captioning and American Sign Language (ASL) interpreters for this webinar.