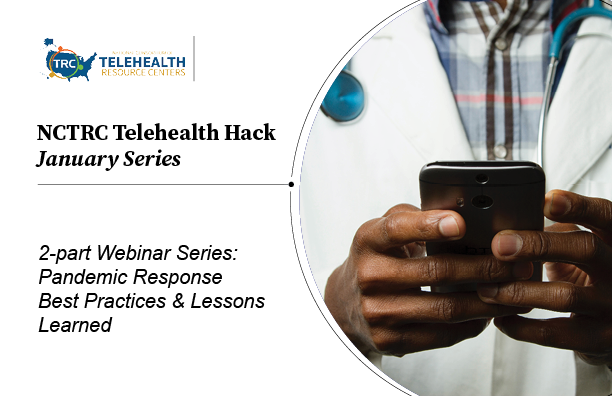 NCTRC Telehealth Hack- Post-Acute Care and Long Term Care Facility Pandemic Response Best Practices and Learned
Jan 27 2021
2p EST
The NCTRC is now hosting the Telehealth Hack Webinar Series!
Presented by:
• Kathy Wibberly, PhD, Director of the Mid-Atlantic Telehealth Resource Center
• Justin Mutter, MD, MSc, Section Chief and Assistant Professor of Geriatric Medicine, University of Virginia School of Medicine
• Laurie Archbald-Pannone, MD, MPH, Associate Professor of Medicine, Department of Internal Medicine Division of General Medicine, Geriatrics and Palliative Care and Division of Infectious Diseases and International Health. Medical Director, UVA Outpatient Geriatric Clinic.


Description: Optimal processes for the prevention and treatment of COVID-19 infections and outbreaks in post-acute and long-term care (PA/LTC) facilities has proven to be one of the most critical challenges of the COVID-19 era. High risk populations, especially older adults, who are facility-dwelling have accounted for approximately 25-40% of all mortality in the United States since March 2020. Telehealth services and technologies can serve as key tools to address this major challenge. This webinar reviews the principles and practices of the Geriatric Engagement and Resource Integration for Post-Acute and Long-Term Care Facilities (GERI-PaL) program, a collaborative and interprofessional telehealth endeavor serving these high-risk populations in central Virginia.

*Please contact nctrc@cchpca.org to request Closed Captioning and American Sign Language (ASL) interpreters for this webinar.