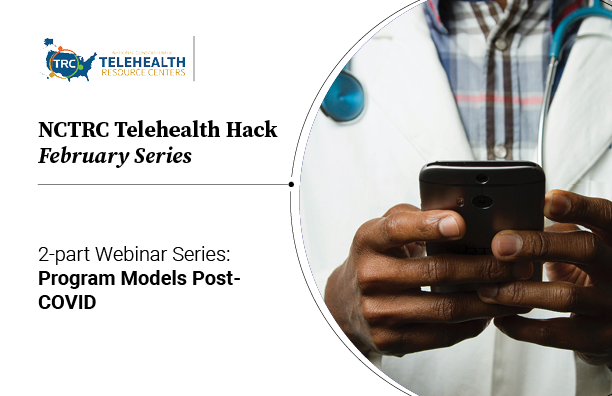 NCTRC Telehealth Hack- Health Professions Training Models Post-COVID
Feb 17 2021
2p EST
The NCTRC is now hosting the Telehealth Hack Webinar Series!
Hosted by: National Consortium of Telehealth Resource Centers
Presented by:

• Karen Rheuban, MD - Medical Director, Office of Telemedicine, Karen S. Rheuban Center for Telehealth, University of Virginia
• Scott Shipman, MD, MPH - Director of Clinical Innovations and Director of Primary Care Affairs at the Association of American Medical Colleges (AAMC)
• Kathryn Neill, Pharm.D - Associate Provost for Academics, Director of Interprofessional Administrative and Curricular Affairs, Associate Professor of Pharmacy Practice, UAMS Division of Academic Affairs, University of Arkansas for Medical Sciences

Please join us for this panel discussion on "Health Professions Training Models Post-COVID-19". Practices and providers around the US quickly ramped up their telehealth efforts when the PHE period started a year ago, and many haven't looked back. As we look forward, what are the necessary methods and best practices of telehealth for health professionals to know? Learn from our experts as they discuss the world of telehealth training as we move forward!

Our distinguished panel brings leaders in this conversation to the virtual table, where we'll discuss:
-What's already out there (for telehealth training)?
-Where are we headed (both for professionals and in medical education)?
-What does the emerging landscape still need to help us determine?

*Please contact nctrc@cchpca.org to request Closed Captioning and American Sign Language (ASL) interpreters for this webinar.