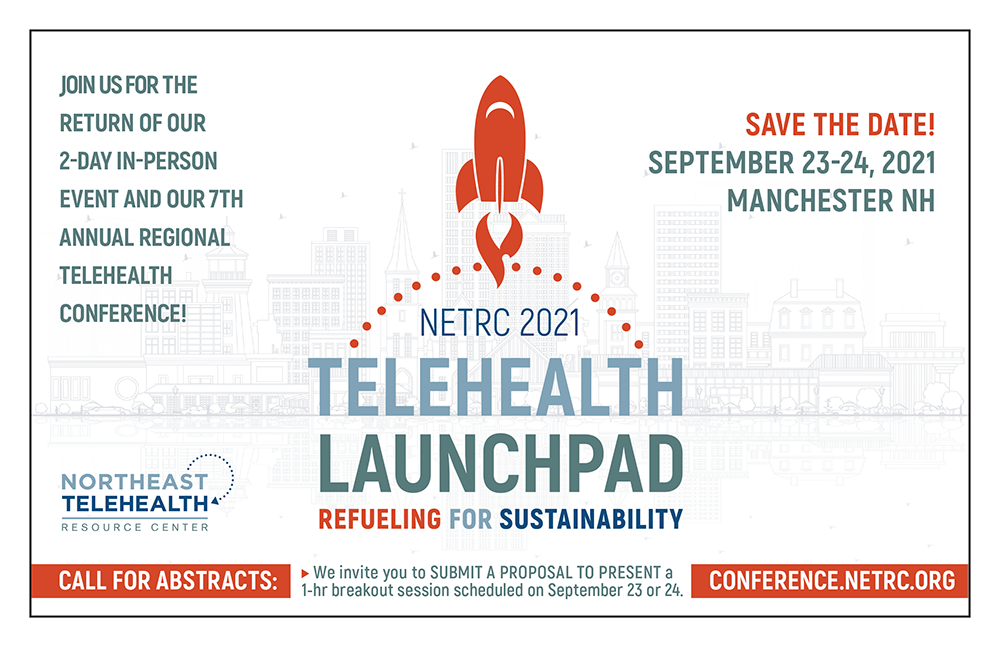 NETRC 2021 Telehealth Launchpad: Refueling for Sustainability CALL FOR ABSTRACTS DUE!
Jun 25 2021

The Northeast Telehealth Resource Center team is thrilled to return to an in-person format for 2021; This years' event be hosted in Manchester, NH on September 23-24, 2021 at the DoubleTree Downtown

The event will follow the social distancing protocols necessary, but will have the same fun & content packed agenda you've come to expect at a NETRC conference: 2 days full of information and use cases across the telehealth spectrum! We're excited to embark on planning our annual conference again, and we hope you're gearing up as well!

We invite you to submit a proposal to present a breakout session (one hour, scheduled on September 23rd or 24th).

The proposal deadline is Friday, June 25th and Notifications will be made by Friday, July 9th.

Please note, this call is open to clinicians, faculty, and students from all disciplines; however, NETRC cannot accept applications from for-profit vendors. We encourage vendors to share this opportunity with customers and end-users, and are happy to discuss this.